<TTS> German Shepherds

P.O Box 356

Roscommon, Michigan 48653

Phone:(989) 275-6003

Cell: (989) 390-1271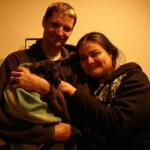 PARDON OUR DUST UNDER CONSTRUCTION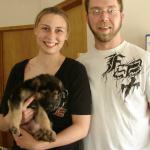 Hi Wendy, here are a couple pictures of Toby with the boys and us on Easter Sunday.  I swear though he has grown since then!  I will make sure you get some more pictures as we take them!  I got home from Miami last night about midnight and had to spend some quality time with Toby right away.  I missed him! He is doing great.  I did register his microchip this morning.  Will talk to you soon.  Thanks for everything.

Erica

Hi Wendy,

I just had a moment to drop you a line.  We named our new puppy Max…or should I say the girls named him on the way home from picking him up.  He is so lovable and has adapted very well to his new home.  Steve takes him to work every day that he works on our rental properties…he has a smaller cage for travel and a large one in our bedroom at home for the evenings when we are sleeping.  He has stopped whining at night unless he needs to go out.  He loves to chew and play…especially with our 5-year old Granddaughter.  He is making himself a big part of the family and learning the rules as he grows.  He eats well and loves his treats!  I will send pictures when I get a chance!

Enjoy your week!

The Garrett Family

"SCOUT"

Long Coat Female 

Mindykowski Family

MELLUS Family

Long Coat Male 

"CASH"

 "MAX"

Black/Red Male

GARRETT Family

 Female Short Coat

  Howe Family 

Wojcik Family Black/Red Male

"TOBY

Short Coat Male The Foor Family

"Bentley"

Corwin Family Short Coat Female

"ISABELLA"

                     Hi Wendy,

Wanted to drop you a quick line.  Toby had his first well puppy appt.  He weighs 13.3 lbs!  The vet says he looks great.  Toby is adjusting awesome!  He is sleeping less and playing lots more!  We will soon be starting puppy classes.  Toby loves to go out in public – he stops to say "hi" to everyone.  He loves the park and going to my parents house on Sunday's.  Potty training is going well.  He has an occasional accident in the house but mostly when he is playing hard.  I promise to get you some pictures soon.  I have some on my camera but haven't downloaded them yet.  The whole family loves Toby.  He's my little buddy!  Talk to you soon.  Thanks for everything!

Erica