Nadier Vom Dinaburg

    100 % West German Conformation Line       

  aka "LION"

<TTS> To The Standard German Shepherds

P.O Box 356

Roscommon, Michigan 48653

Phone: (989) 275-6003

Cell: (989) 390-5886

Linebreeding - 5 generations

•3 - 5............................................. in 2X VA1, Rikkor von Bad-Boll

"LION" is out of 2 Imported V rated SchH titled parent's, both with KKL1 breed survey's (only obtained from the SV).  Both parent's are German Imports with show and working titles through out their pedigree's.  Both of Lion's parent's are out of TOP GERMAN KENNEL's .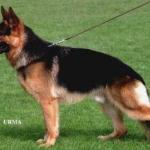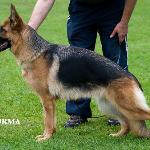 V EIKA VOM BLACKWOOD CASTEL, SchH1,Kkl 1, a

V KONRAD VON DEN ZWEI LOEWEN SchH3,Kkl1 a

This is Connie, Faith and all of us are loving Callie... We had some computer problems lately and just today went and printed out a disc with recent pictures of Faith and Callie I am actually planning on emailing you with them tomorrow.  I rarely ever...get on this email so sorry it's been so long responding to you.  

We just had Callie in for her check up last week shes just tipping the scale at 70.3  She's a joy and a lil stinker too. 

Thanks for writing and I will send them to you in the morning..

Faith and Connie and family